A dress made entirely from loom bands being auctioned online is attracting bids of over £170,000!
There have been over one hundred bids so far for the clothing on eBay described as a "multi coloured dress made from loom bands".
The loom bands craze has travelled the world since its invention in 2011.
The Duchess of Cambridge, Kate Middleton, brought the bands to grown-ups' attention by wearing a loom bracelet on her trip to New Zealand.
David Beckham and Harry Styles have also picked up on the trend.
Single mum Helen who is studying degree in forensics in Wrexham said she had the idea after helping her 12-year-old daughter Sian who is "mad" about making loom band designs.
"My friend Katherine physically made it because she's out of work and gets bored.

I said why don't we make a dress from loom bands and Katherine said she'd be happy do do it because she's too ill to work. She did an hour here or there in between her house work to keep her busy.It took her about 45 hours to make but that was over weeks and weeks.

She made it by running one long strip of loom bands then got one of Sian's dresses and laid them both on the floor and got the pattern from there."
Helen said the dress cost £47 spent on 47 packets of loom bands.
"When it was done we thought we'd stick it on eBay as a bonus for £50 and thought if it went over the £50 we might have a day out," she said.
"Last night we checked Ebay and thought it was a joke when we saw it had gone over £100,000."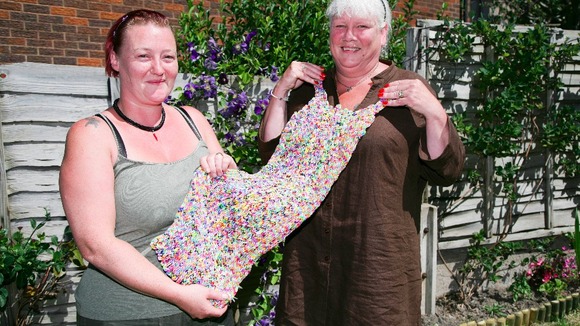 The bids rocketed after buyers waged war on each other in a tit-for-tat contest for the dress modelled by Helen's daughter Sian.
Helen says her daughter is a size 12 and it took two of them to get it on her and it was very heavy.
The rainbow loom was invented by Cheong Choon in 2011 and has seen millions of children making bracelets and necklaces.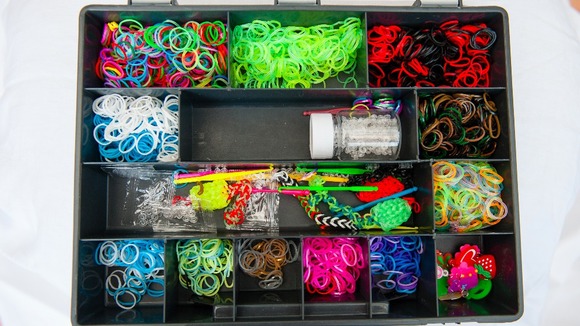 The loom band craze continues to grow.
Credit: PA
http://www.bbc.co.uk/newsround/28275986
http://www.itv.com/news/wales/2014-07-11/looney-price-for-loom-dress-mum-tells-of-shock/