A vertigo-inducing glass floor has been installed at the Eiffel Tower, France's most visited tourist attraction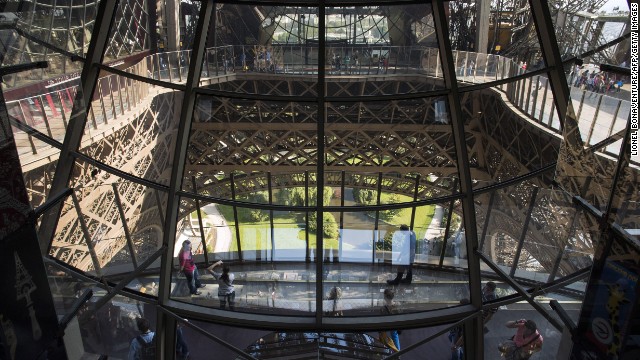 For those scared of heights, the Eiffel Tower's new floor may be something of a challenge.
Visitors will be able to look down on Paris through a glass floor as part of a refurbishment of the tower.
The transparent floor will be on the first level of the tower, at 57m, where operators hope that visitors will linger before heading to the highest viewing platform at 276 metres above the ground. Traditionally, tourists to the Eiffel Tower spend little time here before moving on to catch the better views from the two higher levels.
"We wanted people to realise how the building is anchored with its four pillars in the ground", Alain Moatti, the architect in charge of the renovation, told le Journal du Dimanche, the French Sunday newspaper.
The refit of the half-hectare first floor, which began in May 2012 and was unveiled to the public today, also includes shops, restaurants and a museum telling the story of the 125-year-old construction. The tower's eco-friendliness has also improved, with the installation of four solar panels that will provide about half of the tower's hot water requirements. Some of the toilets will also be operated using rain water.
A tourist captures the view (Photo: Reuters)
About seven million people visit the Eiffel Tower each year – 85 per cent of them foreigners – making it the world's busiest paid-for tourist attraction. The tower's management also hopes that the renovation will attract more Parisians to the "Dame en Fer" (The Iron Lady), as it is sometimes referred to in French.
The tower opened in 1889 and was named after Gustave Eiffel, whose company engineered the project. At 324m in height, it was the world's tallest building for 41 years until the Chrysler building was built in New York in 1930.
From CBBC newsround and The Telegraph