Heaven was a place on earth for the biggest fans of Minecraft this weekend as Minecon - the global gathering for players of the hugely popular game - came to London.
It was the first Minecon held for 18 months during which time the 70 millionth copy of the game was sold and Mojang itself was sold to Microsoft for $2.5bn (£1.6bn).
In total, 10,000 fans visited the Excel convention centre in London's Docklands for Minecon and, in doing so, set a Guinness world record for an event dedicated to one video game.
The convention drew attendees from more than 73 countries, with some coming from as far away as New Zealand just to join in.
Minecon filled every hall at the sprawling Excel exhibition centre. The main presentation stage hosted the opening ceremony, a Minecraft game show, costume competition and a dance show celebrating the game. Another hall was given over to an expo involving a tournament area, Minecraft-themed funfair booths, statues of blocky Minecraft animals and merchandise stalls.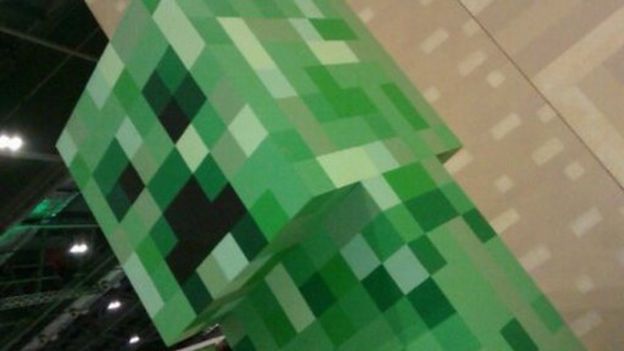 The show floor featured statues of many familiar Minecraft creatures such as this creeper
As well as being a hit with many individual players, the game's success has made stars of many people who make Minecraft-themed videos - day in, day out. This year Minecraft became the most watched game of all time on video-sharing site YouTube.
Any vlogger or YouTuber recognised as they walked around the show was mobbed by fans who waylaid them to get an autograph or take a selfie with their idols.
One of the most popular sessions at the show was with a Q&A on Saturday on the show floor with a group of of popular vloggers and YouTubers known as The Pack. Between them the members of The Pack - Mr Woofless, PrestonPlayz, JeromeASF, BajanCanadian, Vikstarr123HD and Lachlan - have an average age of 20, and more than 15 million subscribers.
Future features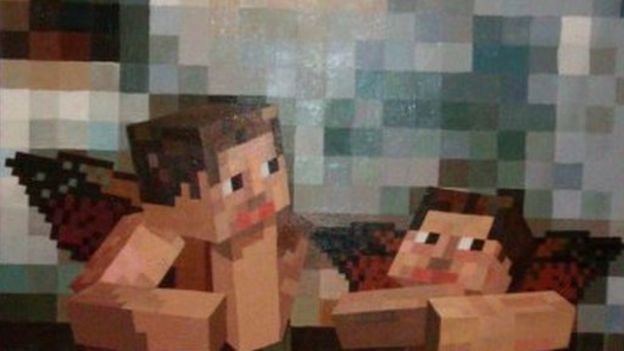 At the convention, Mojang also talked about features in forthcoming versions of the game which will include letting characters carry and use objects in both hands. In addition, some elements of the game, an area known as The End and its final boss - the Ender dragon - are also getting updates.
An exhibition of Minecraft-themed art was on show at Minecon
The first trailer for Minecraft: Story Mode - which turns the game into an episodic adventure - was aired at the show and gave people a glimpse of the story that will be played out in that.
Mojang owner Microsoft also took the opportunity to give attendees a glimpse of the version of Minecraft it is preparing for the Hololens augmented reality system. Microsoft staged a competition to pick 50 convention goers who were able to don the helmet and get a look at the invention.
But despite the enthusiasm and creativity on show, not everyone who attended was sold on Minecraft's appeal.
adapted and abridged fro BBC news/Technology