People in New Zealand have started voting on whether to change their national flag.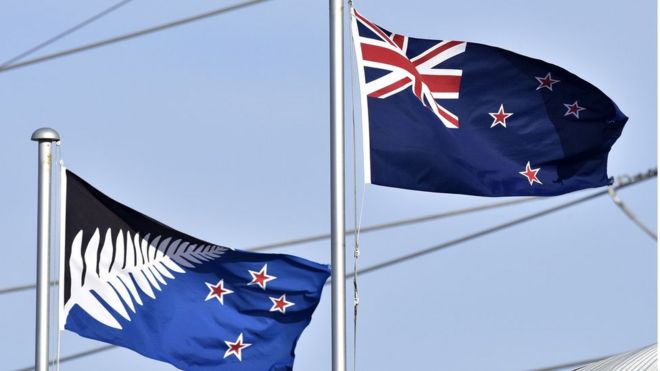 The country's prime minister wants to change to a design so that it looks different to the UK flag.
The current flag includes the Union flag - the United Kingdom's national flag, from a time when the country was controlled by the UK.
Voters are being asked to choose between the current design and a new flag based around the traditional New Zealand silver fern.
People have three weeks to vote. ( CBBC Newsround)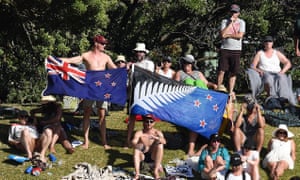 The proposed alternative New Zealand flag (right) is seen alongside the current flag during the cricket Tes between Australia and New Zealand in Wellington in February. Photograph: Dave Hunt/AAP
The final stage in New Zealand's bid to change its flag has begun, with voters asked to choose between the current design and a silver fern against blue and black.
Silver Fern (Black, White and Blue), by Melbourne-based New Zealander Kyle Lockwood, was the highest-ranked of five designs in a referendum last year, with 50.58% of the vote.
The second referendum asks voters to choose between it and the current flag. Those correctly enrolled will receive papers in the mail between Thursday 3 March and Friday 11 March.
Voting in the referendum closes on Thursday 24 March with the preliminary result expected around 8.30pm local time. All votes postmarked by Wednesday 23 March will be eligible for the count. .
The final result will be declared on 30 March, after all votes received in time have been processed. If the vote is for change, there could be a transition period of around 12 months
.
The referendum opens amid apparent flagging support for change, with the One News Colmar Brunton poll in late February finding that two-thirds of New Zealanders are in favour of keeping the current design.
"You can say a lot of bad things about the alternative flag, but probably the worst is that it makes the current flag look good," wrote commentator Finlay Macdonald.