On the 70th anniversary of the atomic bombing of the city of Hiroshima, on the 6th August in 1945.
What happened in Hiroshima?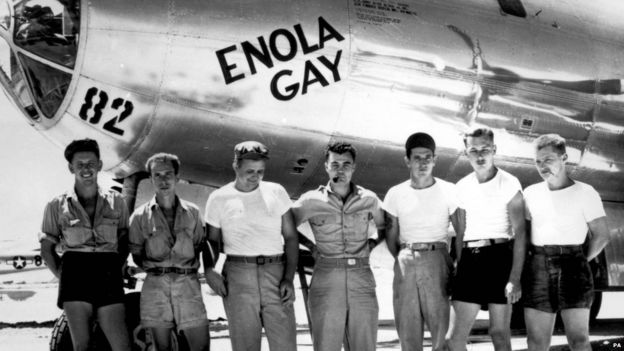 On 6 August 1945, at 8.15am Japanese time, an American B-29 bomber plane, called 'Enola Gay', dropped an atomic bomb on the Japanese city of Hiroshima.
The devastation was beyond anything seen before. The city was immediately flattened.
80,000 people were killed as a direct result of the blast, and another 35,000 were injured.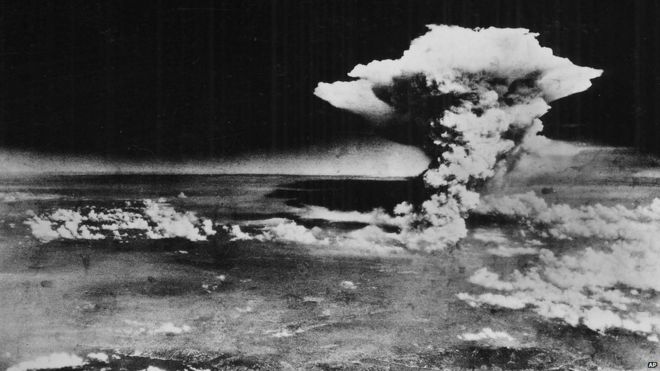 A huge mushroom cloud of smoke fills the sky over Hiroshima, Japan, one hour after it was bombed in August 1945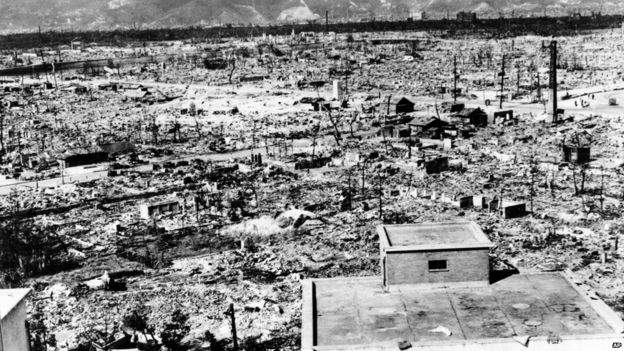 Even then, Japan didn't surrender.
Three days later, another nuclear bomb was dropped by the Americans on the Japanese city of Nagasaki.
Shortly afterwards, on 15 August 1945, Japan finally admitted defeat.
There were celebrations in Europe after
Germany surrendered.
But on the other side of the world in the Pacific Ocean, Japan was still fighting against America, Britain and their allies.
The Americans, however, had a secret plan to end the war - by using the most powerful weapon ever created
What damage did the bombs cause?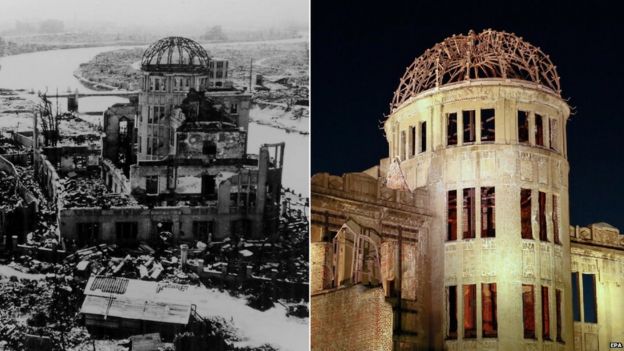 This building, now called the A Bomb Dome, survived the atomic blast and today it's a memorial in Hiroshima, Japan
When the bomb exploded in Hiroshima, the city has struck by a flash of blinding light then a giant cloud shaped like a mushroom.
The blast flattened buildings within a 2.5 km radius of the bomb.
There were 90,000 buildings in Hiroshima before the bomb was dropped but only 28,000 remained after the explosion.
Thousands and thousands of people were killed. Many were badly injured.
But the suffering didn't end there because it wasn't just a normal bomb.
The nuclear radiation released when it exploded caused people to suffer horrible illnesses.
Thousands more people died from their injuries and radiation sickness in the weeks, months and years that followed.
Why did the US drop the bomb?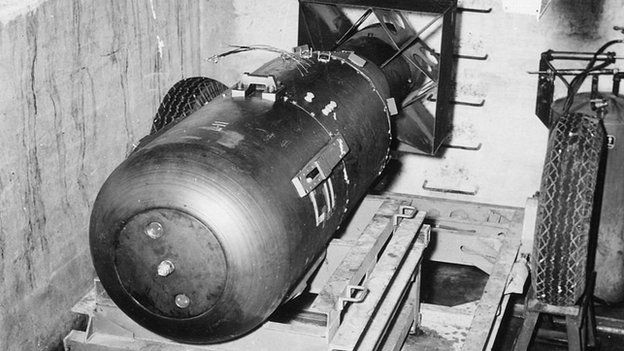 The Hiroshima bomb was nicknamed 'Little Boy'. Here it is before being loaded into the Enola Gay's bomb bay
Japan had been at war for many years.
It had invaded the countries near to it such as China and the Japanese had attacked America.
Everywhere the Japanese soldiers went, they were known for their cruelty.
They treated prisoners of war very badly, including American and British soldiers who had surrendered
.
(CBBC Newsround)