Adele's new album 25 has sold more than 800,000 copies in its first week of release - the highest ever figure for a single UK chart week.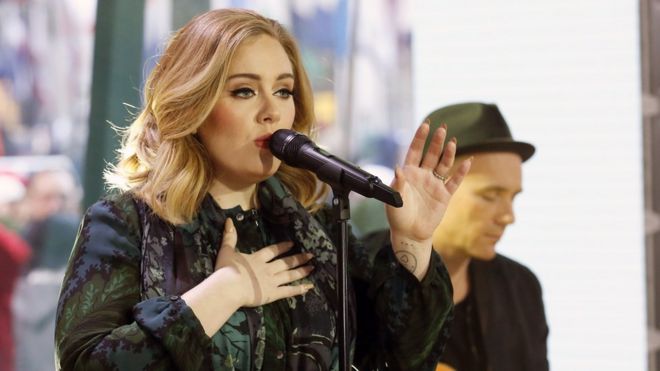 Adele's first-week sales were more than eight times those for any other album this year
The album shifted more copies than the next 86 albums in the chart combined, and has become the first album to sell more than 100,000 downloads in a week.
In fact, 252,423 of the album's 800,307 sales were digital with the rest on CD.
Official Charts Company chief executive Martin Talbot said: "The statistics surrounding the album are staggering."
He added: "No album has ever sold 800,000 copies to reach number one in the history of British music."
The previous record was held by Oasis's Be Here Now, which reached number one with sales of 696,000 in 1997. However that album only went on sale three days before the end of the chart week.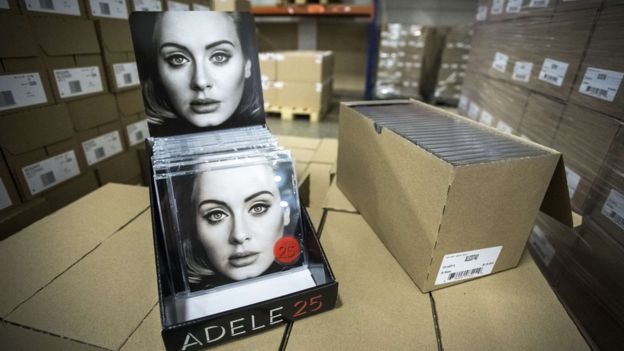 Adele's record-breaking sales
Before this, no album had sold 100,000 copies in a single week this year. Adele's 25 has sold 800,307.
That is more than the combined sales of the last 19 number one albums in the weeks they topped the chart.
More than 300,000 people bought 25 on its first day of release.
Ed Sheeran held the previous record for weekly digital album sales, with 95,709. Adele's 25 has eclipsed that with 252,423 downloads.
25 has reached double platinum status already.
It still has some way to go to match the sales of Adele's last album 21, which is owned by 4.8 million people in the UK.